Agriculture Picking & Pruning
Picking robots and pruning robots are widely used for pruning and picking within indoor farming applications. With the tall Z-axis and slim design, the PreciseFlex 3400 robot is ideal for these applications. The optional tape seals protect the robot from water spray. We even offer a DC power option for adding PreciseFlex cobots to mobile robots.
Get Started
PreciseFlex cobots are also the most reliable available with MTBF of 125,000 hours.
A range of fully-integrated Servo Grippers makes it easy to get started. The gripper position and gripping force can be adjusted specifically for your application. We also provide collaborative linear rails to extend the robot's reach by up to 2 meters.
Get Started
(3kg payload) - Ideal for small parts handling, kitting, and electronics testing
(8kg payload) - The latest generation of cobots with tall Z-axis and large cylindrical work envelop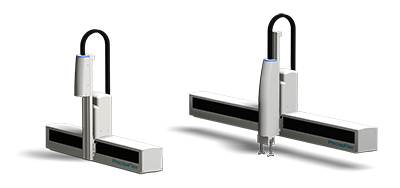 PreciseFlex 100 Cartesian
(3-6 kg payload) - The only collaborative Cartesian robot that offers a space-saving design with speed and safety.