Manufacturers Face Growing Challenges
Businesses are facing challenges due to shortening product lifecycles, higher product variability, and supply chain disruptions. These factors are pushing companies to bring manufacturing closer to home. Additionally, the shortage of labor is affecting productivity, leading to errors, decreased quality and high turnover. Many companies are turning to cobots to automate mundane tasks while freeing employees for more meaningful, higher-value work.
Cobots automate routine tasks, increase capacity, and are suitable for limited spaces.
Flexibile and Agile Operations
Cobots execute tasks with precision and repeatability, and are easy to program with minimal training, allowing manufacturers to quickly adapt to change.
Free Employees for Higher-Value Work
Cobots allow employees to focus on more important tasks, leading to higher engagement and reduced turnover. With cobots, employees can achieve more.
Fast, Easy Deployment
Cobots are fast and easy to deploy, delivering ROI in weeks, not months or years. They have a long lifespan, providing even greater ROI. Ideal for Small and Medium-sized Enterprises and organizations looking to reshore or nearshore.
Get Started
Discover the PreciseFlex Difference
PreciseFlex cobots offer superior performance, safety, reliability, energy efficiency, and compact design.
Highest Throughput
PreciseFlex Cobots
The primary axis moves horizontally without the need for high-ratio reducers to support gravity loaded axes
Extremely low gear ratios of 1:1 or 5:1, which allow teaching with near zero fricton
Extremely low reflected inertia results in low collision forces
Can move faster and accelerate at higher rates without compromising safety
Traditional Cobots
Move axes vertically - against gravity - using harmonic drives a wear item and failure point) to lift the arm
Move high gear ratios of 150:1 or more with high friction results in difficult hand-guiding for teaching
Higher reflected inertia (2,000x more than PreciseFlex cobots) results in higher collision forces
Must move slower and accelerate at lower rates to be collaborative
Most Reliable
PreciseFlex Cobots
Mean Time Between Failure (MTBF) of 125k hours*
Design life of 40,000 hours for PreciseFlex 400 and 3400
Design life of 100,000 hours for PreciseFlex DD 4-axis, which uses direct drive motors. (the highest among standard cobots)
*Based on over 4.000 robots deployed for over 12 years. MTBF as stated here applies to robot only, and does not include the complete automation system. Robot reliability depends on the application and environment.
Traditional Cobots
MTBF not published
Design life not published. Harmonic drives typically last 20.000 hours
Substandard reliability results in ongoing retrofits and recall notices
Highest Workspace Density
PreciseFlex Cobots
Vertical column envelope maximizes workspace
Ideal for moving vertically and reaching into shelves, machines, and instruments
Extend robot reach with Collaborative Linear Rail (easy to program with coordinated motion)
Ideal for mobile applications
Traditional Cobots
Spherical envelope limits vertical reach
Bulky wrist restricts access in narrow spaced
External controllers and cables require extra floor space
Larger footprint requires more floor space
Third-party linear rails are expensive, clunky, and time-consuming to design and install
Unsuited for mobile applications due to high power consumption, bulky external controller, and offset spherical work envelope
Most Energy Efficient
PreciseFlex Cobots
70 ~ 150W for moving payload at speed, using 1/3 the power of traditional cobots
Up to 12 PreciseFlex 400 and 3400 cobots run on a single 120VAC/20A circuit
Up to 15% additional power savings with DO Power Option
Ideal for mobile applications
Traditional Cobots
Consume more power due to vertical axis design and high-friction harmonic drives
Wasted power dissipated as heat creates more inefficiency, requiring air conditioning in climate-controlled facilities
Require up to 3X more power to do the same work
Inefficient in mobile applications
PreciseFlex Family of Cobots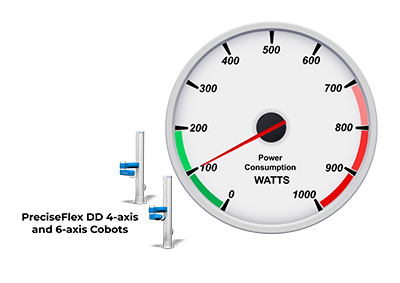 (3kg payload) - Ideal for small parts handling, kitting, and electronics testing.
(8kg payload) - The latest generation of cobots with tall Z-axis and large cylindrical work envelop.
(6kg payload) - The latest generation of cobots with 6-axis articulation, tall Z-axis, and large cylindrical work envelop.
(3-6 kg payload) - The only collaborative Cartesian robot that offers a space-saving design with speed and safety.
Authorized System Integration and Distribution Partners