PCBA/PCA handling robots and PCBA/PCA test robots ensure product quality, increase productivity, and free people for more meaningful work. PreciseFlex collaborative robots are ideal to transfer PCBAs, and loading / unloading PCBA testers. Automating electronics handling and testing adds value across industries such as Automotive, Aerospace, Electronics, Med Devices, and Consumer Products.
With their unique configuration and slim design, PreciseFlex cobots excel at picking and reorienting PCBAs and transferring them between conveyors and test machines.
Get Started
For PCA testing, PresiceFlex robots are ideal for loading In-circuit testers, functional testers, flying probe, and other testers.
Fully-integrated electric Servo Grippers make it easy to get started. The gripper position and gripping force can be adjusted specifically for your application.
Get Started
(3kg payload) - Ideal for small parts handling, kitting, and electronics testing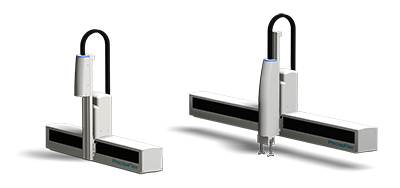 PreciseFlex 100 Cartesian
(3-6 kg payload) - The only collaborative Cartesian robot that offers a space-saving design with speed and safety.